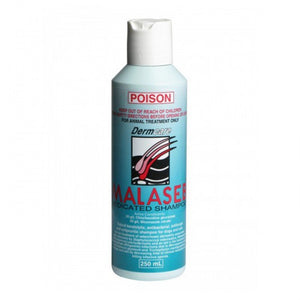 Dermacare
Malaseb Medicated Shampoo
Regular price
$13.00
$0.00
Unit price
per
Dermcare Malaseb Medicated Shampoo is registered to treat Seborrhoeic Dermatitis and is an aid in the treatment of Dermatophytosis in pets.
Seborrhoeic Dermatitis is a skin infection involving bacteria (Staphylococcus) and yeast (Malassezia). Dermatophytosis is a fungal infection which is more commonly known as "ringworm".
Why does my pet get these infections?
It is normal for pets to have low numbers of resident bacteria and yeast on the skin surface. When there is a disruption to the skin's natural ecosystem these bacteria and yeast can overgrow, leading to skin disease.
Reasons for disruption to the natural balance of the skin:
Allergy, for example to pollens, grasses, food (protein) and fleas.

Parasites, such as fleas, mites and lice.

Hormonal or endocrine diseases

Conformational problems such as deep skin folds - these create a moist environment, which is more favourable for growth of micro-organisms 
How does Dermcare Malaseb help my pet?
Kills the micro-organisms, helping to keep the numbers of yeast and bacteria at manageable levels.

Removes excess scale and oils, commonly produced when the skin is infected.

Removes allergens such as pollens, which can be present on the coat or skin, causing irritation.
How often should I use Dermcare Malaseb on my pet?
In the case of Seborrhoeic Dermatitis, Malaseb should be used twice weekly when the infection is active.  Once the infection has resolved, it can be used weekly as a maintenance shampoo and preventative.
In the case of ringworm, Malaseb should be used twice weekly in conjunction with systemic treatment. Therapy is typically needed for 8 to 12 weeks.
Dermatophytosis or "Ringworm"
Dermatophytosis is a contagious fungal disease affecting the skin and coat of pets.
Dermcare Malaseb kills infective spores on the coat. This helps to prevent the spread of the disease and reduces environmental contamination by reducing shedding of spores from affected animals. Ringworm in cats is usually a generalised skin disease. This means that although you may only see a few localised lesions on the skin, the infective spores may be present over the whole coat meaning that the whole body needs to be washed.
The use of Malaseb in conjunction with a systemic antifungal reduces the time to clinical resolution when compared with using a systemic antifungal alone.
Malaseb should be used twice weekly during treatment of dermatophytosis. Treatment can take up to 8-12 weeks.
It is important to note that young children or people with a compromised immune system may be at a greater risk of contracting the disease. If you have an animal that has been diagnosed with or is suspected to have dermatophytosis, please discuss this with your doctor.
Directions for use
Wet the animal thoroughly with clean water

Apply Dermcare Malaseb shampoo to your pet at several points and massage into the coat.

Always make sure the coat is thoroughly wet before applying Malaseb, this will help to achieve the required lather.

Using a sponge may assist with producing a lather and with penetration through the coat. The sponge also holds water which again helps to ensure the coat is adequately wet during application.

50ml of Dermcare Malaseb would be adequate to treat a 30kg, medium hair length dog and 7-10 ml would be adequate for an adult cat.

Leave the shampoo on for 10 minutes. Ensure you pet is supervised during this time to avoid ingestion or inhalation of the shampoo

A damp cloth, with a little diluted foam can be used to clean the face of both cats and dogs.

Whilst bathing cats is never easy, many will tolerate water better if it is not running. Using a 3 bucket technique, where all buckets are filled with warm water can help. The cat is dunked (not including head) into the first bucket and shampoo applied, then wrapped in a towel for the 10 minutes to stay warm and prevent licking foam. Once the 10 minutes is up the cat is sequentially dunked into the first, then second then remaining buckets to rinse the coat. 
What about conditioner?
In the case of seborrhoeic dermatitis in dogs it is recommended that after shampooing with Malaseb, apply Dermcare Pyohex Medicated Conditioner. This will help to moisturise the skin while extending the duration of action of the chlorhexidine antiseptic in the Malaseb.
---